At the Danish company Sanistaal, the working environment report showed that the office noise exceeded the limits. It was difficult to hear the customers over the phone. One of the problems was that the office is a long, narrow room with 20 persons in groups of 4. They are divided according to customer segments and talk with many customers over the phone during the day.
Acoustic solutions did not suffice
They had previously had noise control plates installed on the ceiling and felt they had done what they could about the physical setting to reduce noise but the problem was not completely solved.
That's why, they were looking for another way to reduce office noise. In the process, they discovered the Noise Guide; a small desktop noise indicator.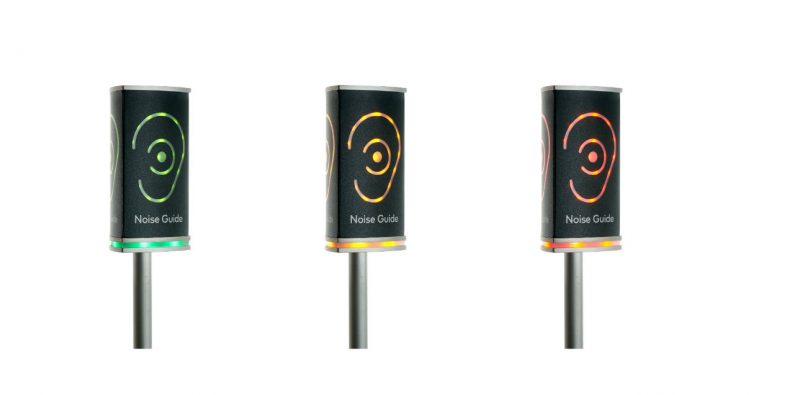 It clearly indicates the noise level by a green, yellow or red ear, depending on the level of noise. For six months now, they have had four Noise Guides located on the islands in the office and have found that they actually relieved the problem.
The Noise Guide produced immediate results
"The effect of using the Noise Guide was immediate. We used to have people who talked very loudly. We don't anymore", says Palle Walsted, team leader at the office in Silkeborg.
Palle Walsted explains that you automatically lower your voice when the ear is red in consideration of your colleagues.
"You have it at the back of your head to pay attention to your colleagues when it's flashing red", says Palle Walsted, specifying "It's right in front of you as a very direct reminder that you must lower your voice now".
The Noise Guide is easy to move
He also explains that the clever thing about the Noise Guide is that it can be easily moved around in the office. If you feel the noise is too high elsewhere in the office, just move the Noise Guide there. Moving from thought to action takes no time when you don't have to unscrew it from the wall.
The Noise Guide is popular at many Sanistål departments, having heard the results from the office in Silkeborg, Denmark.
You may also find these posts interesting
Know anyone else who should read this?
Share the blog post if you can think of others who would benefit from this read.