As the COVID pandemic spread in the United States, Massachusetts General Hospital (MGH) in Boston became a regional epicenter for acute COVID patients.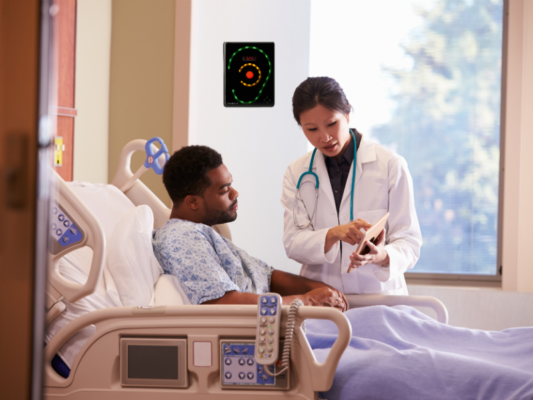 The number of patients increased, and MGH had respirators donated by the surrounding hospitals to meet the need.
However, the alarms on the new ventilators could not be surveilled on the existing monitoring system and could not be heard from the hallway either. The heavy doors dampen so much that the staff cannot hear the alarms from the life support appliances.
This problem is now solved by using SoundEar in the hospital.
The SoundEar itself is hung in the hallway and the microphone is pulled into the living room, so that when an alarm goes off, the staff can follow even if the door is closed.
"SoundEar is our best opportunity to meet this need," said Jacob Nazarian of the hospital's COVID task force.
SoundEar at COVID-departments
MGH has used SoundEar3 to detect non-integrated device alarms in a patient room and forward them to the hanging lights in the corridors.

The solution is simple and universal because the microphone can be connected to the various devices (fan, infusion pump, ECMO machine, dialysis machine), record, and forward alarms.

MGH is currently testing the system as a pilot project in patient rooms and preparing to implement units throughout the hospital.
Massachusetts General Hospital is the largest teaching hospital at Harvard Medical School in Boston and ranked as the second-best hospital in the United States.
It is the third oldest hospital in the United States and has a capacity of 999 beds.
The hospital runs the largest hospital-based research program in the world with an annual research budget of more than $ 1 billion