FAQ. Here you may find answers to your questions concerning SoundEar products.
Questions about SoundEar products:
Where do I place my SoundEar device?
The optimal placement of the SoundEar is:
at a visible spot on the wall
at 1,8 meters above ground
at the opposite side of the room from the door
not in a corner
not close to any absorbent materials
not close to noisy instruments
What is the recommended area for a SoundEar microphone to cover?
30-40 square meters
Can SoundEar products be used outside?
Yes, SoundEar II and SoundEar 3 products are IP42 certified, meaning that they are dust- and waterproof. They should however be under cover.
Are SoundEar systems wireless?
Yes, SoundEar 3 products can be purchased with either a wireless radio signal or with WiFi. Contact your local SoundEar Distributor to learn more.
What is the warranty for SoundEar products?
There is a two year warranty on all SoundEar products.
What is the difference between SoundEar II and SoundEar 3?
The SoundEar 3 is a class II, has an internal log, an external microphone with preamplifier, and a deviation of +/-0,5 dB. SoundEar II has a deviation of +/-3 dB.
With the SoundEar 3 you also get flexible light settings, including day and night settings.
SoundEar 3 moreover has an internal clock, and a dynamic range from 30 dB to 120 dB.
If you add the cost of the external microphone and internal log to the SoundEar II, you will reach the same price as a SoundEar 3, but the SoundEar 3 is a much better device.
What are the features of different SoundEar products?
For an overview of features for all SoundEar devices, download the product matrix here.
Technical questions about SoundEar:
How do I update the driver for the SoundLog for my SoundEar II device?
Posted Sep.14th 2017:
After the new update from Windows you need to update the driver software in order to have a connection between the SoundLog and the SoundEar PRO software.
The driver is called CP210x Windows Drivers with Serial Enumeration
Download the updated driver here
How do I view LAeq1s measurements in the Noise Guide measurement library?
Posted Sep.19th 2017:
As a standard, the Noise Guide software can only show you LAeq1min in the measurement library but there is a small work around in order for you to view your measurements as LAeq1sec.
See this tutorial video on YouTube in order to find out how.
How big is the internal memory on your devices? And on your USB drives?
The internal memory of a SoundEar device is 16 MB.
The SoundEar USB drives have a memory of 8 GB.
What are the different features of the SoundEar 3 software?
To get an idea on the different functionalities of the SoundEar 3 software watch this demonstration video on YouTube
Why can't I download my SoundEar 3 or Noise Guide measurements to the USB drive?
Make sure the USB drive is formatted (FAT 32) before using it, and make sure the USB drive is empty, before inserting it into your device.
Want to see how to download measurements from your Noise Guide? Watch the instructional video on YouTube.
Why is my SoundEar 3 device not connecting to the SoundEar software?
The first time you connect your SoundEar 3 to your PC, Windows Update will try to find a driver for the software (this may take a while – around 5 minutes) – after this, Windows will "give up" and install a standard HID driver.
When the driver is installed, the device should connect to the software. You can check in your 'Device manager' in Windows to see if the 'HID compliant system controller' is installed – this would be your SoundEar 3 device.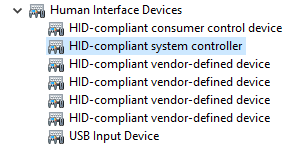 Questions about noise:
How do I know what noise levels are acceptable in my particular setting?
We have created a guide, that gives examples of different situations and their typical noise ranges, which may help you figure out where your noise levels should be.
You can download the noise level guide here.
What can I do to reduce noise levels?
For tips and case stories about noise and noise reduction, visit the SoundEar blog.
What do abbreviations like LAeq, LAS max and dbA mean?
dbA is the normal weighted frequency for noise recording.
dbC is the higher tone noises, which are typically filtered out by the human ear.
LCpeak is the highest C weighted value measured within the period.
LAF max is the highest A weighted value measured within a second. Fast measurement.
LAS max is the highest A weighted value measured within a second. Slow measurement.
LAeq, 1s is the average noise level measured over 1 second. Slow measurement
For an overview of noise related terms and their definitions, see the acoustic glossary.